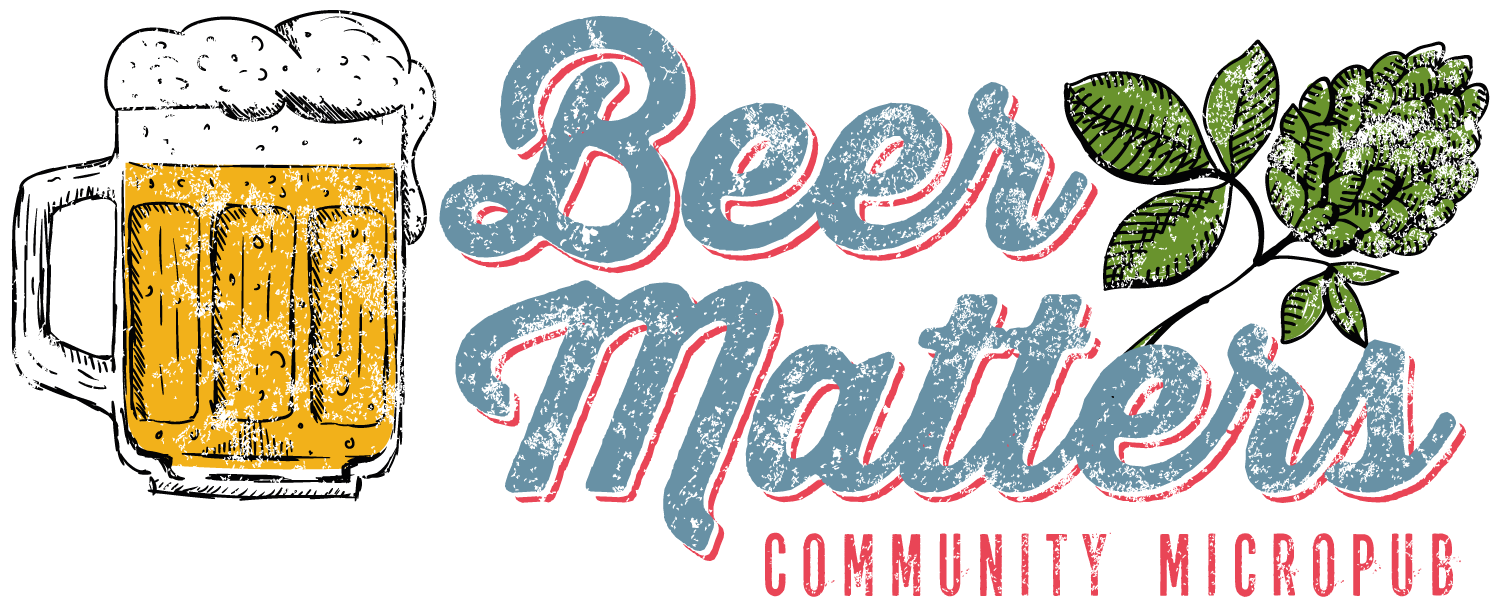 Beer Matters Community Micropub - 7 Tuly Street, Barnstaple, Devon. EX31 1DH
If you love real cask ale from all over the Country, served at its very best, then Beer Matters community micropub could be for you. Our objective is to offer you, our customers, a choice of the best cask ales from local breweries and further afield, all in one place.
We, Simon and Alison, look forward to welcoming you to our community micropub in Barnstaple. We're providing a real alternative for cask ale lovers who are looking for a more traditional, conversation-based experience - no TV, no loud music, no children.
We hope to make Beer Matters micropub a valued community asset, where people can enjoy great beer and great conversation, and get involved.
So if you're looking for a real ale experience that's getting harder and harder to find, then we hope you'll support us.
Let us know what you think. We'd love to hear from you. simon (at) beermatters.uk
Opening Hours
Monday – Closed
Tuesday – Closed
Wednesday – 2pm to 9pm
Thursday – 2pm to 9pm
Friday – 1pm to 9.30pm
Saturday – 12 noon to 9.30pm
Sunday – 2pm to 5pm
Cask Ales on this Week - 28 November, 2023
As we move towards the festive season we'll be serving stouts and porters, which are very popular this time of year. To start with we have Atlantic Storm from GT Ales, a fantastic oatmeal stout not to be missed! Our two other local ales are Real Smiler from Clearwater Brewery and Old Appledore from Country Life Brewery. Completing our line up we have Blonde from Backyard Brewhouse, Walsall. Sam's Cider and ciders from Sandford Orchards and Green Man cider, based in Landkey, are available, along with a range of wines, soft drinks and others. Something for everyone we hope.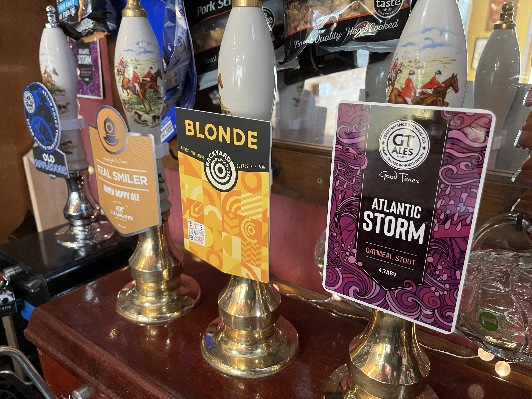 Beer Matters e-Voucher
Are you looking for the perfect present for your beer-loving friend or partner? Then look no further than our Beer Matters e-Voucher. Simply click here to buy your e-Voucher - it's quick and easy!
Beer Matters Merch.
We're now selling Beer Matters mech. Working with local design company Yeah You, which is part of Deamons of Doom, we're now selling black t-shirts for £18 each. Please call into the bar to buy your Beer Matters t-shirt.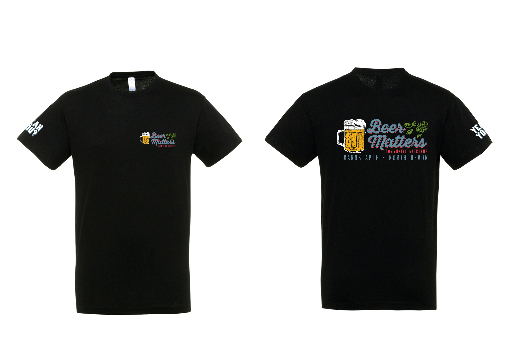 Community
We're very keen to become an important part of the Barnstaple and North Devon community. If you have a club, charity or any other community organisation and you're looking for a new place to meet, chat, socialise or plan, then we'd be happy to welcome you to Beer Matters. Please get in touch and let's talk about how we can help you: simon (at) beermatters.uk
Hire Beer Matters
Looking for somewhere different to host your next party or event? Why not consider Beer Matters Community Micropub? We can offer a cosy, atmospheric venue combined with the very best caskale, cider, wine, soft drinks and others. Bring your own food or we can arrange mouth-watering international street food. Get in touch with us and let's have a chat about how we can help you create a unique event.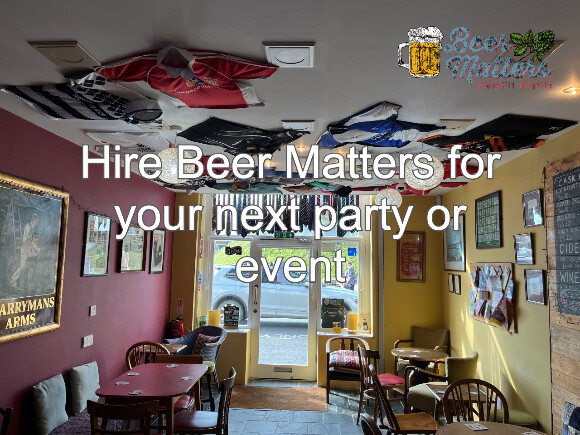 Loyalty Card - Terms and Conditions - Our first scheme ended 31st August, 2023

We've introduced a loyalty card scheme so we can give a little back to you, our valued friends and customers. Please ask for your card at the bar.
• Loyalty Card applicants must be 18 years or over.
• Surrendered Loyalty Cards become the property of Beer Matters Limited.
• Loyalty Card stamps are not transferable.
• Loyalty Card stamps will only be issued on the purchase of 1 pint of cask ale.
• One Loyalty Card stamp will be rewarded for every purchase of 1 pint of cask ale. For example, the purchase of 1 pint of cask ale will receive one stamp.
• A full Loyalty Card (ten stamps) can be redeemed for 1 free pint of cask ale.
• Only 1 Loyalty card can be redeemed per visit to Beer Matters Limited.
• A Loyalty Card cannot be redeemed for cash.
• In the event that a purchase is made without a Loyalty Card the customer must tell the shop at the time of transaction. The receipt will be stamped and this stamp can be transferred to the Loyalty card within 3 months.
• Beer Matters Limited reserves the right to amend these terms and conditions, but will endeavour to inform customers with as much notice as possible.
Gallery
Beer Matters community micropub opened on 7 December 2022. Here are a few of our photos, which we hope give you an idea of the look and feel we're trying to achieve. Please come and join us and try some of the best cask ales, all in one place, seldom available elsewhere in North Devon.